Congratulations on your engagement! As you embark on this incredible journey towards your big day, the excitement might also come with a touch of feeling a bit overwhelmed. There are so many details to manage, decisions to make, and tasks to handle. Having a structured plan is the key to enjoying a stress-free wedding planning process. And that's exactly why you should download our free wedding planning checklist today!
Stay Organized and Stress-Free:
Wedding planning involves juggling numerous tasks, from choosing a venue to sending out invitations and selecting the perfect cake. This comprehensive wedding planning checklist guides you through 12 months of the planning process and is designed to keep you on track and organized. If you're planning a wedding in a shorter time frame, don't stress—just begin as soon as possible and work your way down the list. Having your to-dos laid out in a clear, step-by-step format, you'll be able to approach each task with confidence, knowing that you haven't missed any crucial details.
Never Miss an Important Task
There are countless details to consider when planning a wedding, and it's all too easy to overlook something important. Our checklist covers everything from setting a budget and creating a guest list to booking vendors and finalizing your wedding day timeline. You can trust that our checklist is designed by experts who understand the intricacies of wedding planning, ensuring that you won't forget a single task.
Save Time and Reduce Stress
Wedding planning can quickly become overwhelming, especially when you're trying to balance it with other responsibilities in your life. This checklist streamlines the planning process, helping couples save time by providing a clear roadmap of what needs to be done and when. This means fewer last-minute rushes and more time to savor the excitement of your engagement.
Track Your Progress and Celebrate Milestones
There's nothing quite as satisfying as checking items off a to-do list. Our wedding planning checklist allows you to track your progress as you complete each task. It's not just a list of things to do; it's a record of your journey towards your wedding day. Celebrate each milestone you achieve and watch as your dream wedding comes to life step by step.
Access Valuable Tips and Insights
Alongside the checklist items, we've included valuable tips and insights that can help you navigate through various aspects of wedding planning. From advice on choosing the right vendors to tips for managing your budget effectively, our checklist offers a wealth of information that can empower you to make informed decisions.
Planning your dream wedding should be an exciting and joy-filled experience! Our free wedding planning checklist is here to make that possible. Downloading the checklist is a smart move towards staying organized, reducing stress, and ensuring that no detail is overlooked on the journey to the altar. Don't let wedding planning overwhelm you – let our checklist be your guiding light as you create the memories that will last a lifetime. Download it today and take the first step towards a beautifully planned wedding!
Have You Already Selected Your Wedding Venue?
We have to agree that wedding planning is such a fun experience that you'll never forget! From touring venues to meeting with vendors and everything in-between, we are sure that you'll have an absolute blast. 7F Lodge & Events is a rustic wedding venue located in College Station, TX. Our little white chapel tucked away in the trees on the outskirts of Aggieland, has been honored to have had the opportunity to host thousands of wedding celebrations over the last 25 years. We hope this wedding planning checklist will help you during the early stages.
Lastly, if you are engaged and still on the hunt for a dream wedding venue, we would absolutely love to show you around 7F Lodge. You will have the opportunity to see the event venue itself, our 8 uniquely themed cabins on property and the getting ready suites! To schedule a time that works best for you, request your tour HERE. If you have any questions about specific wedding packages or general availability/pricing, don't hesitate to fill out the form linked HERE.  Someone from our team will be in touch! We hope you have an amazing and stress free wedding planning experience!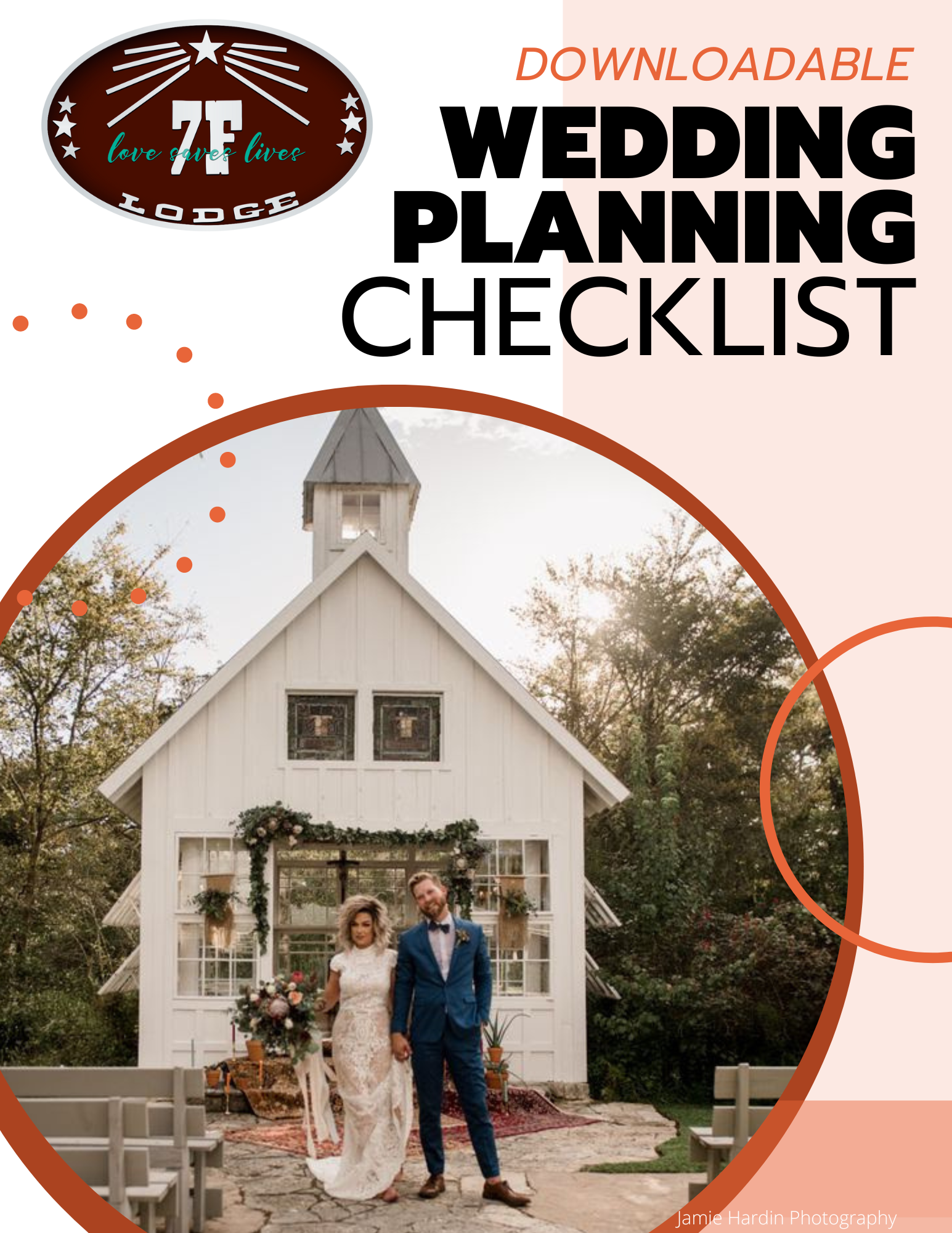 Popular Products
When you stay at 7F Lodge, we stock each cabin with unique and locally sourced products from other small businesses we trust.  Because we believe in these products so much, we partner with a few and offer them directly to you.