The History of 7F Lodge's Original Cabin
Hill Country Lodge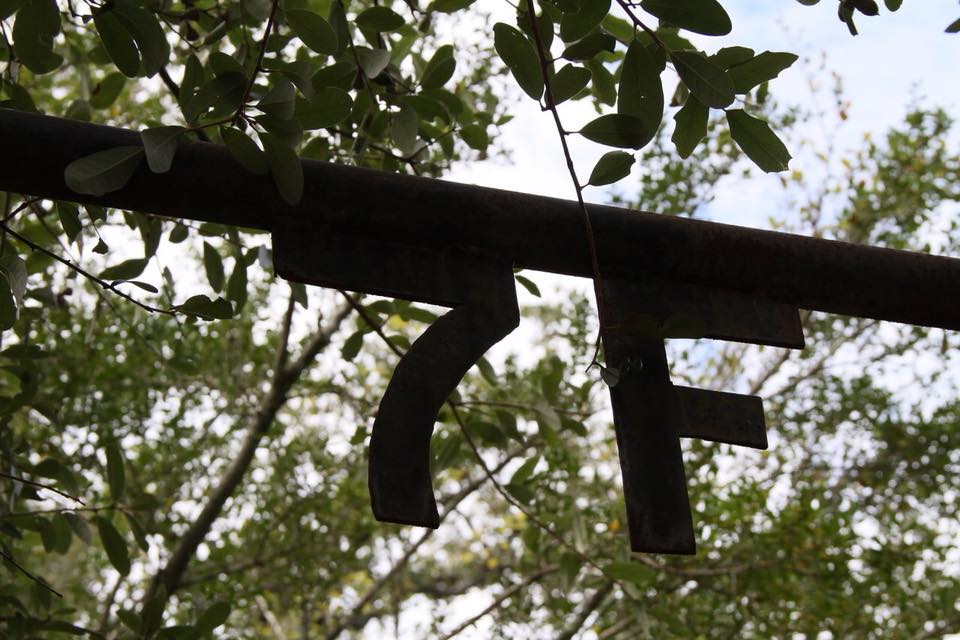 In honor of our Cabin of the Month, we are sharing Carol's original story of the Hill Country Lodge.  Thru the years, some things have come and gone in the cabin, but the precious doll's bottle remains in the kitchen.  We encourage you to book a stay in this quaint cabin and look for many more of Carol's special pieces.
During The Depression the 3 Frierson brothers all attended Texas A & M College, commuting by rail from the original 7F Ranch, northwest of Abilene in Haskell County. The 7F family brand was originated there in 1886.
Each Frierson brother studied agriculture and was, of course, in the Corps of Cadets. Following their studies here, each received their commission and served in WWII, Roy on the French front, Byron instrumental in the takeover of Berlin, and Gene in the Pacific. Following the war, they returned to A&M to get graduates degrees. During that time, they built this first cabin; Hill Country Lodge.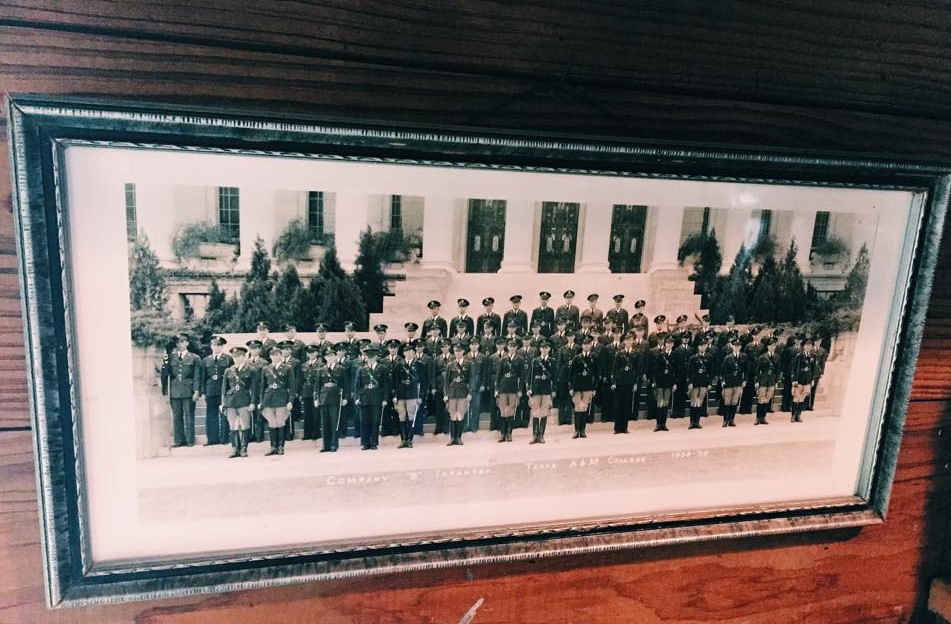 It appeared to be a place for healing. They gathered with their friends to hunt and no women were allowed. Across one wall were 4 sets of full sized bunk beds, in the center of the one large room was a long picnic table, there were 2 refrigerators, 2 stoves, and a kitchen area along one wall, an enormous cistern, an outhouse, a campfire and a huge post-war Caterpillar diesel generator.
It began with "No Women Allowed…"
When I was 6 years old I was allowed to come to the deer camp with my father. It was a cold, wet day in December with threats of sleet lingering from moment to moment. As we left the house, I ran back to my room to get a small, glass doll's bottle in case I saw a deer, I might possibly catch it and feed it. I could hardly wait as we slipped and slid down the rough, wild roads, crossing swollen creeks and muddy tank dams. It was the height of adventure.
As is often the case with our child-like hearts, once at the camp my attentions were drawn to the deer, gutted and hanging from the trees, sausage squealing and smoking on the grill and the blazing fire, the laughter of the men and the sense of this forbidden man's world, the right of passage I was being initiated into. So, promptly I lost the bottle.
When I left for college in 1972 the cabin was virtually abandoned. My horse went on to greener pastures, our family matured and I stayed in the city. Daddy died in 1982 and for years I just couldn't return.
Then in 1995 I was hiking in the Andes mountains of Peru when I decided to go home. It was as if I heard a voice guiding me. So, that's what I did. I came home.
36 years after I lost that bottle, I began to develop this land and wouldn't you know it, while digging in the yard outside this dear little cabin I found that little glass, doll's bottle that now sits on the kitchen window. A sign, I believe, that I have made the right decision to revive my father's wish, to perpetuate our family brand.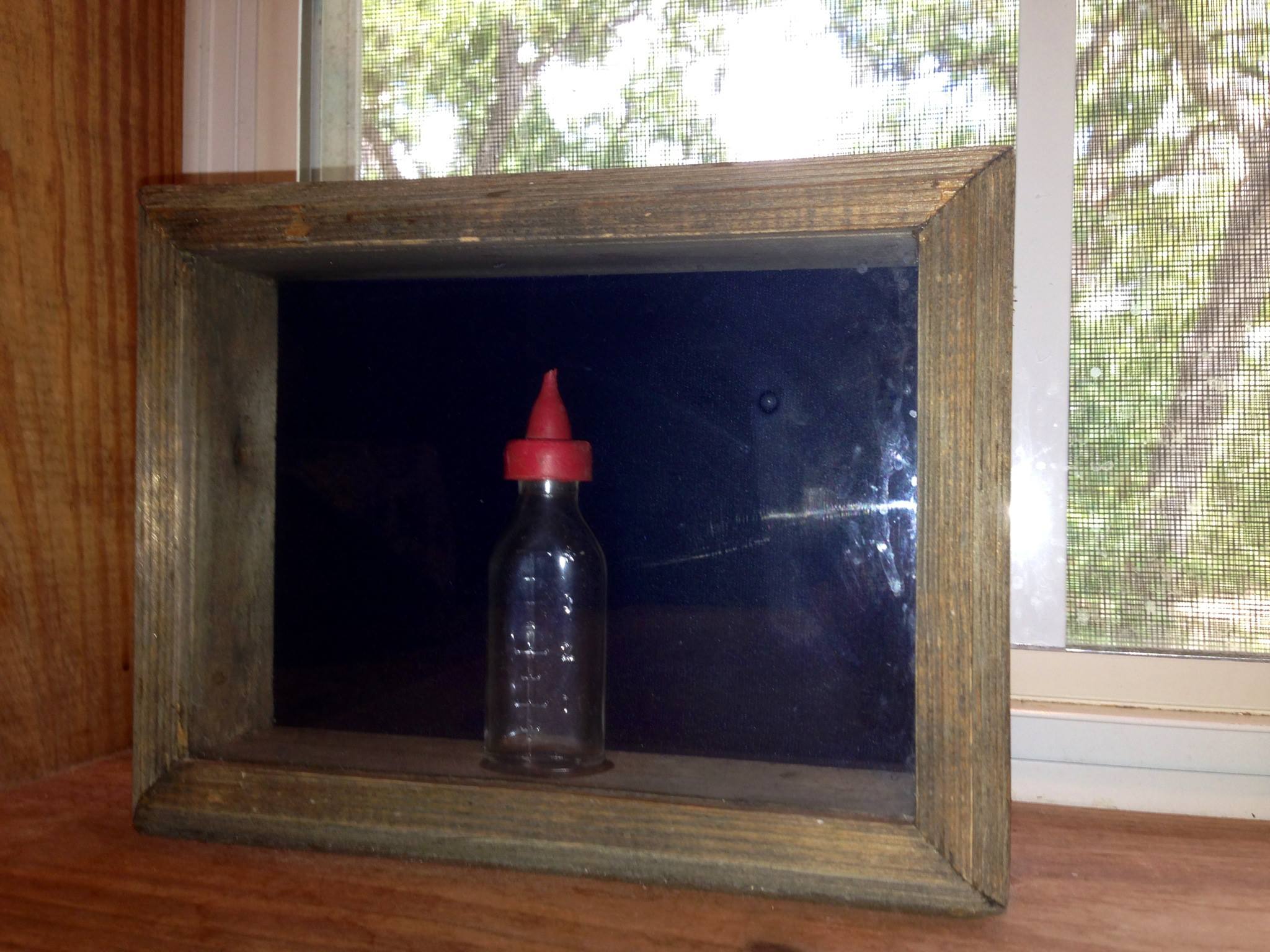 My father was the oldest and he had no sons, so I inherited the 7F brand. I am the first woman in 112 years to hold title to it. I am so honored and I am so proud. there are 200 acres left of the original 2,400. This little fantasy village is on a 14 acre subset of those last 200 acres. Originally, we raised Angus cattle experimenting later with Brangus, then finally the town grew and we developed some of the farm into housing. It is a powerful place. A lot of good living has happened here. I learned to ride my first horse just steps from where you are sitting and I ate plenty of bologna sandwiches out under these trees.
So, let me tell you more: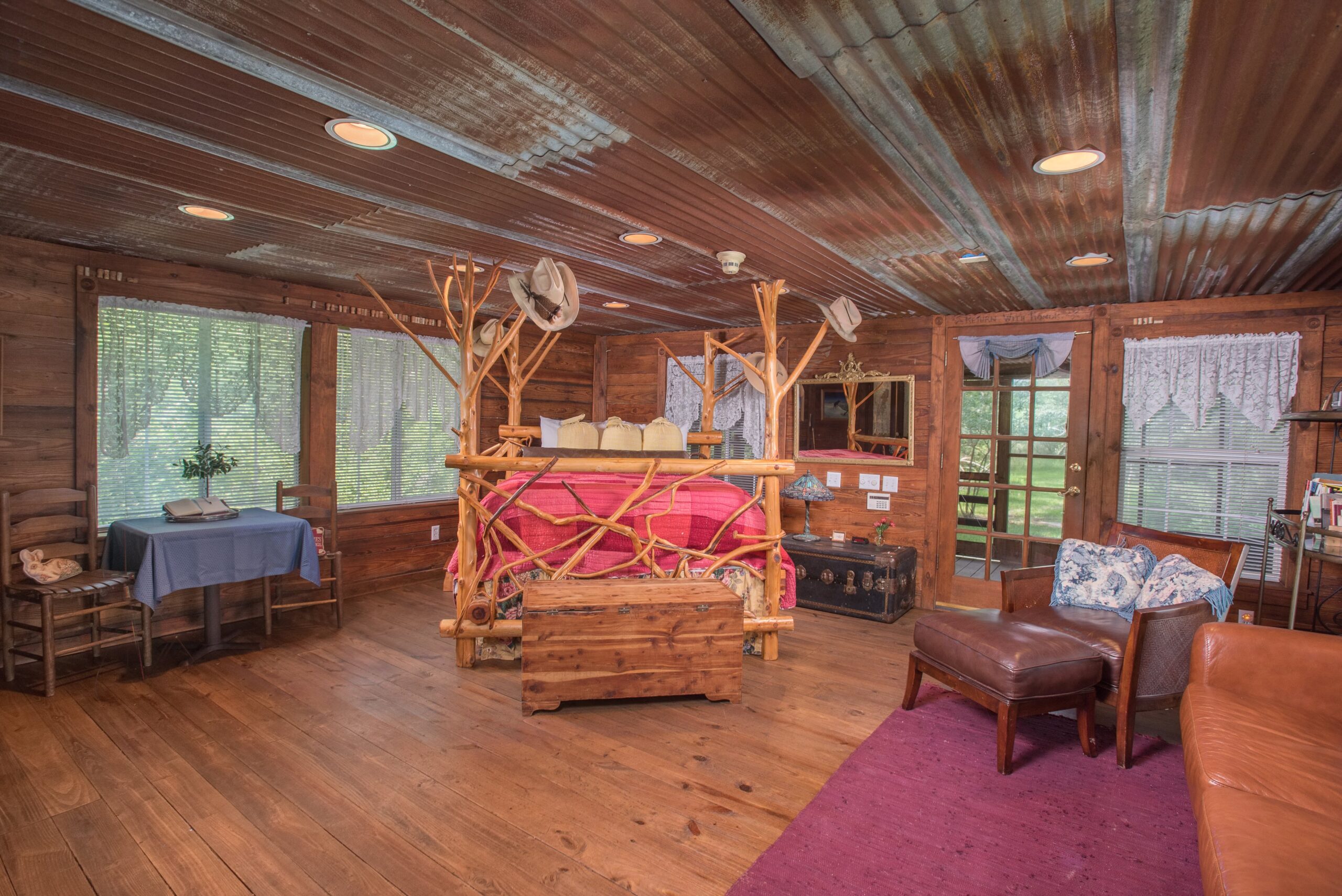 I designed this bed and had it made by a local artist. The cedars are cut from our land, the roots are pulled from the banks of Peach Creek. The interior ceiling was the original roof of the deer cabin. The wood on the walls is from an old estate in the Montrose area of Houston and I battled long and hard for the old kilm rug at an auction in Hong Kong in 1985. The artwork is from all over the world as well as the antique pieces of furniture.
There is an enormous amount of love in this cabin. There is a healing energy here, too. It is a sacred site. It is blessed and so am I.
Thank you for spending some time here. It means so much to us.
Hill Country Lodge is a guest favorite for many reasons.  From the unique twisted cedar bed, to the relaxing porches and tubs, to Willie Nelson serenading the guests upon arrival, there is so much to enjoy.  If the walls could talk……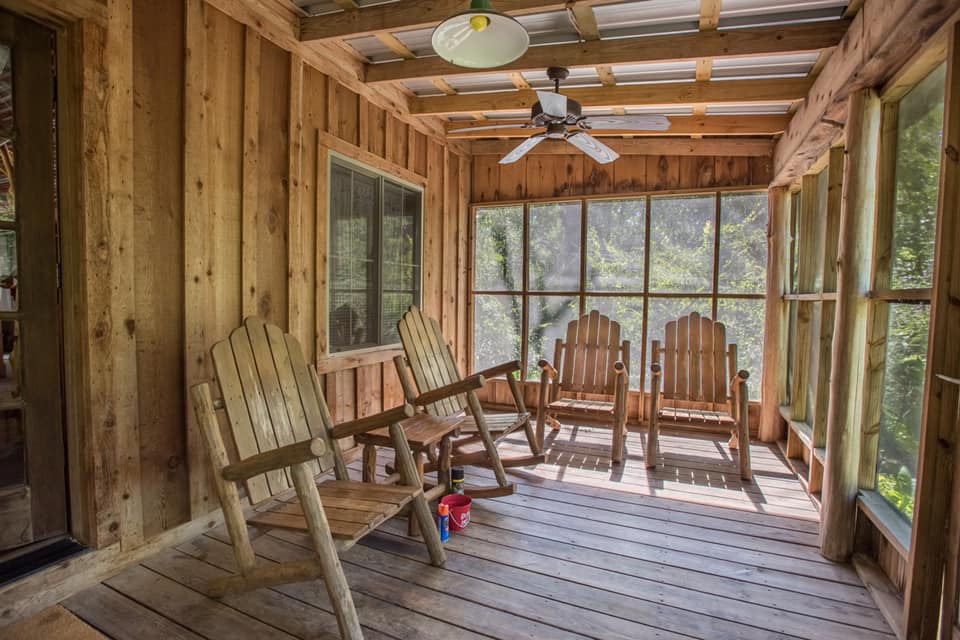 Book your Texas Bed & Breakfast getaway now!
To learn more about each cabin, be sure to purchase Carol's Book
Love Saves Lives: Scenarios of 7F
Popular Products
When you stay at 7F Lodge, we stock each cabin with unique and locally sourced products from other small businesses we trust.  Because we believe in these products so much, we partner with a few and offer them directly to you.