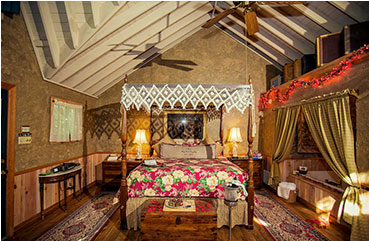 France
Soft moss green walls with vaulted ceiling and a canopied king-sized bed. The suite has a beautiful Oak armoire and French seating area. The 2-person jacuzzi tub is in a draped alcove.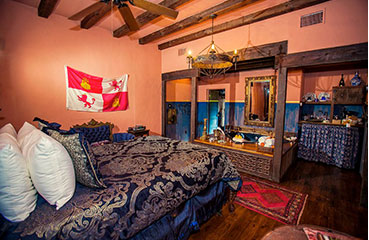 Spain
Spanish colonial royal blue and rose walls with a great carved queen-sized bed which overlooks a navy 2-person jacuzzi tub in an elegant raised bathing area. Beautiful outdoor courtyard with fountain.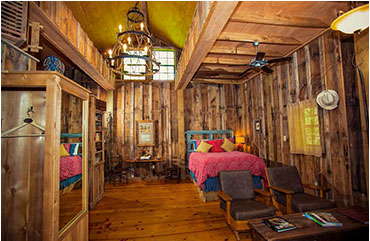 The Barn
A secluded western barn made from turn of the century barn wood with a 2-person, heart-shaped jacuzzi tub inset behind burlap drapes steps away from a queen-sized bed. Enjoy your very own private, oversized outdoor shower for two, secluded on the porch.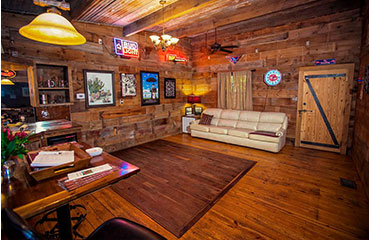 Sully's Place
This boasts an 80 sq. ft. dance floor and neon bar signs, offering traditional country music and old-time rock & roll by artists from Jim Ed Brown to ZZ Top. Separate bedroom with queen-sized bed. A 2-person heart-shaped jacuzzi tub sits on the screened-in back porch.
Hill Country Lodge
This is our original cabin. It has both an old fashioned shower/soaking tub combination and an outoor 2-person jacuzzi tub on a large screened-in porch. It has a full kitchen and a unique peeled cedar queen-sized bed. It has that feel that a small hunting lodge provides.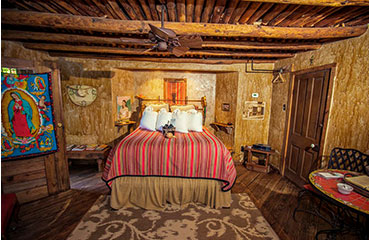 Mexico
Designed to look like an aristocratic Mexican bungalow, it has weeping plaster walls and a Latillo ceiling, hand painted Mexican tile and a hand painted sink. It has a queen-sized bed and a red, heart-shaped 2-person jacuzzi tub in a corner that backs up to a festive virgin of Guadalupe shrine.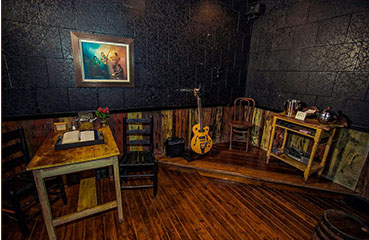 Sugar Shack
Designed as a rural social club with small stage, guitar and amp. The "Club" Manager's Office has Chanel red interior, a queen-sized bed, and a black 2-person jacuzzi tub. Screened porch.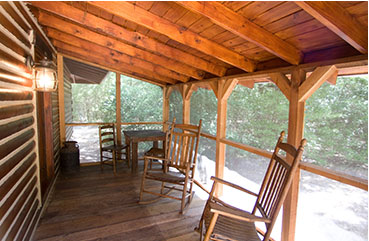 Batts Ferry Log Cabin
A much more modern version of a log cabin indicative of 1848 with an interior of log walls, raised ceiling, a king-sized bed, and a round hot tub set in the middle of a wooder water cistern. Screened front porch.